Posts for tag: nutrition
By DR. JOSEPH MUSCATIELLO & DR. FRANK VIDOLIN
March 13, 2018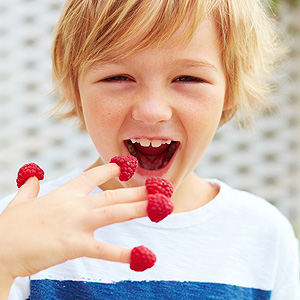 Want to give your kids the best start possible for a lifetime of good dental health? The most important thing you can do is train them in effective brushing and flossing. It's more than having a nice smile and fresh breath: these hygiene tasks remove the daily buildup of bacterial plaque, the primary cause for both tooth decay and periodontal (gum) disease, which are most responsible for poor oral health.
But those aren't the only habits they should be cultivating. Here are 3 tips for helping your child develop great dental health habits.
Encourage healthy eating. Teeth and gums are like other parts of the body: they need the "building blocks" found in nutritious foods to help grow strong, healthy tissues. By focusing on a diet leaner on processed items and richer in whole, less-processed vegetables, meats and dairy products, you'll be helping your child build strong defenses against dental disease.
Keep sugary snacks under control. Of all the items in your child's diet, sugar could have the greatest impact on their teeth. Disease-causing bacteria thrive on this particular carbohydrate, multiplying and producing mouth acid—the main enemy of tooth enamel—as a byproduct. So, limit sugary snacks as much as possible, opting instead for more nutritional between-meal treats. In fact, try to make sure they only consume sugary treats at mealtime, not in between.
Encourage an end to thumb-sucking or pacifiers by age 3. Most infants and very young children suck their thumbs or, alternatively, a pacifier. There's no harm in this habit unless it extends into later childhood where it could affect their bite. You can avoid this outcome by encouraging your child with mainly positive reinforcement to stop sucking their thumbs or other objects before their third birthday. Your dentist can also help with tips and support in those efforts.
If you would like more information on dental care for your child, please contact us or schedule an appointment for a consultation. You can also learn more about this topic by reading the Dear Doctor magazine article "Help your Child Develop the Best Habits for Oral Health."
By DR. JOSEPH MUSCATIELLO & DR. FRANK VIDOLIN
August 29, 2017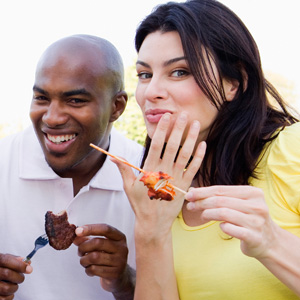 It's time to fire up the grill. So how about some tooth-healthy tips for a summer barbecue that will leave your belly satisfied and your teeth intact?
Appetizers: Starting with appetizers, mind the chips. Tortilla chips can get lodged beneath your gums, potentially causing an abscess. Potato chips can stick to your teeth and invite decay-causing bacteria. How about a cheese or veggie platter instead? Cheese keeps tooth enamel strong, and raw vegetables will scrub your teeth clean.
Main course: When it comes to meat with bones, like barbecued ribs or chicken drumsticks, bite carefully. Don't chew on the bones. Be especially cautious if you have any large fillings or porcelain veneers.
Beverages: Avoid soda and lemonade. The dangerous duo of acid plus sugar in these drinks is the ideal formula for tooth decay. Water is the best choice for staying hydrated. Plus, it washes away debris in your mouth and helps neutralize the acid from food.
After the meal: Need a toothpick? Watch out. They can act like miniature swords, piercing the gums. And wooden toothpicks might splinter, leaving an embedded fragment in your gums. So never leave home without your own supply of dental floss or flexible plastic toothpicks.
Keep summer gatherings fun by making tooth-healthy choices and avoiding dental mishaps. If you have any questions, please contact us or schedule an appointment for a consultation.
By DR. JOSEPH MUSCATIELLO & DR. FRANK VIDOLIN
June 07, 2017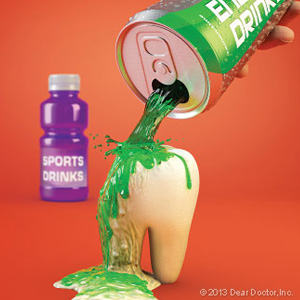 Energy drink makers would have you believe their products are a healthy rehydration choice for athletes while also giving them keener focus and renewed vitality. But before adding them to your sports regimen, you should also consider what effect these beverages could have on your teeth.
Energy drinks are similar in ingredients to sports drinks like Gatorade® and PowerAde®, which mostly consist of water, salts, vitamins, sugars and acids. In addition, energy drinks like Red Bull® and Monster Energy® add caffeine to boost energy.
Besides their sugar content, the main threat from a dental health perspective for both of these drinks is their acidity, which can severely erode tooth enamel. The irreplaceable loss of enamel significantly increases your risk of tooth decay and eventually tooth loss.
The threat of enamel erosion is especially pronounced whenever the mouth's pH level falls below 5.5. The acidity of both sports and energy drinks falls well below this mark. In one experimental study samples of enamel exposed to a number of sports drinks lost an average of 1.5% of mineral content over five days; energy drinks more than doubled that loss at 3.1%.
Given the potential harm these beverages, especially energy drinks, can cause your teeth, you should exercise caution when consuming them. In fact, our best advice is for you to avoid energy drinks altogether, for your overall health as well as your teeth's sake.
Unless you're participating in a physically intense sport, water is your best source for hydration after exertion. Â If you do drink sports beverages, try to limit them to meal times when your saliva is most active to neutralize mouth acid. You can also rinse out your mouth with water after drinking to help further reduce mouth acidity.
As an athlete, you've trained your body to be at its optimum physical peak. Don't let energy or sports drinks take the edge off your health, especially your teeth.
If you would like more information on the effects of sports or energy drinks on dental health, please contact us or schedule an appointment for a consultation. You can also learn more about this topic by reading the Dear Doctor magazine article "Sports and Energy Beverages Bathe Teeth in Erosive Acids."