Posts for tag: root canal treatment
By DR. JOSEPH MUSCATIELLO & DR. FRANK VIDOLIN
January 22, 2017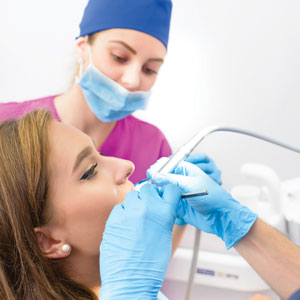 So, you've undergone a root canal treatment to save a decayed tooth. The tooth has a new lease on life — and the pain is gone too. But there's a reality you need to keep in mind — your tooth could become re-infected, putting you back in the same painful circumstance.
Root canal treatments are often necessary when decay works its way deep within a tooth, into the pulp. The excruciating pain a person feels is the infection attacking the bundle of nerves within the pulp tissue. If the infection isn't addressed promptly, it will continue to work its way to the root, eventually damaging the tooth beyond repair.
During a root canal treatment, we drill into the tooth to access the pulp chamber. After clearing it completely of its infected tissue, we then fill the chamber and root canals with a special filling and then seal off the access. A short time later we'll bond a crown over the tooth to protect it and to make it more attractive.
Most of the time, this preserves the tooth for many years. Occasionally, though, re-infection can occur. There are a number of reasons why: the first infection may have been more extensive than thought; the root canal network was more complex and some tinier canals weren't able to be identified; or the protective crown may once again get tooth decay contaminating the root canal.
If infection does reoccur it doesn't mean the tooth is lost. It's possible a second root canal treatment can successfully correct any problems, especially those that may not have been detected the first time. More complex cases might also require the services of an endodontist, a specialist in root canals. They're skilled in advanced techniques and have specialized equipment to handle even the most complicated root canal networks.
In the meantime, if you notice signs of re-infection like pain or swelling around a treated tooth, contact us promptly for an appointment. You should also contact us if the tooth is injured in an accident. The sooner we can treat your tooth, the more likely the second time will be more successful.
If you would like more information on preserving a tooth through root canal treatment, please contact us or schedule an appointment for a consultation. You can also learn more about this topic by reading the Dear Doctor magazine article "Root Canal Treatment: How long will it Last?"
By DR. JOSEPH MUSCATIELLO & DR. FRANK VIDOLIN
April 18, 2016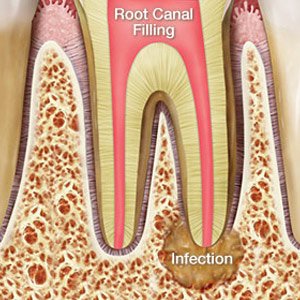 Most first-time root canal treatments achieve their purpose in saving an internally decayed tooth and extending its life to match those of the patient's non-decayed teeth. Occasionally, though, a root canal-treated tooth may become re-infected by decay.
There are a number of reasons for this: the permanent crown meant to add further protection against decay may have been delayed, giving bacteria an opening to re-infect the tooth; it's also possible the original seal for the pulp chamber and root canals after filling wasn't sufficient to prevent bacterial contamination.
There's also another reason that's very difficult to foresee — the presence of narrow, curved root canals in the tooth that can pose complications during the procedure. Some of these known as accessory or lateral canals branch off the main canals to create a complex network that's difficult to detect during the initial procedure. If they're not cleaned out and filled during the procedure any tissue trapped in them can remain infected and ultimately die. If these canals also open into the periodontal membrane at the attachment between the teeth and bone, the infection can spread there and become a periodontal (gum) infection that can trigger future tooth loss.
Fortunately, a reoccurrence of infection isn't necessarily a death sentence for a tooth. A second root canal treatment can correct any problems encountered after the first treatment, especially complications from accessory canals. It may, though, require the advanced skills of an endodontist, a dental specialist in root canal problems. Endodontists use microscopic equipment to detect these smaller accessory canals, and then employ specialized techniques to fill and seal them.
If you encounter pain or other signs of re-infection for a tooth previously treated with a root canal procedure, contact us as soon as possible. The sooner we can examine and diagnose the problem, the better your tooth's chances of survival by undergoing a second root canal treatment.
If you would like more information on tooth preservation through root canal treatment, please contact us or schedule an appointment for a consultation. You can also learn more about this topic by reading the Dear Doctor magazine article "Accessory Canals."